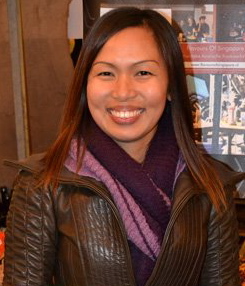 The face behind this weblog (www.rosiegohres.com) and Flavours Of Singapore (www.flavoursofsingapore.nl) is Rosie Gohres (1975) a Singaporean currently living in The Netherlands.
Flavours Of Singapore started in the beginning of 2010 and is the pioneer of authentic Singaporean Cooking Workshops in The Netherlands. Rosie Gohres. is the initiator of this unique concept, as she brings the Singapore kitchen to The Netherlands to introduce the true Flavours Of Singapore. Rosie succeeded big-time.
With interesting and cozy workshops Rosie stole the heart of the people in the Netherlands. Her enthusiastic style of coaching combined with her great knowledge of Asian food, the Singaporean kitchen in particular, makes every workshop a fantastic experience.
Rosie's passion for Singaporean food did not just stop at cooking: Previously, she owned the locally popular Rosie's Nasi Padang back in Singapore. With a background of having mothers that are great cooks who went to cooking courses at an early age and later on got involved in catering businesses, it was this motivation and tutorage that got Rosie interested in food and cooking at a young age.
After spending some time in a career in sales and marketing, Rosie decided to become an entrepreneur and pursue her ambition and passion in the food industry. She first started in Singapore and combined with her knowledge of cooking and food business, Rosie took her experiences to Amsterdam. When she first came to The Netherlands she saw that Asian cooking was different than back in Asia. She also discovered that the Singaporean kitchen was relatively unknown in The Netherlands.
Rosie started her own cooking workshops in 2010. Every day she shares her passion for food with anyone who is interested. She teaches with passion authentic Asian cooking, passes her knowledge of Singaporean food and encourages people not to be afraid to cook Asian food from scratch. Rosie has taught not only Dutch people but also French, Brazilian, Asians, Indonesians, Americans, British, Irish, Mexican, Polish, Germans etc.
Not only does she gives cooking workshops but also conducts cooking demonstrations to the public, involved in corporate projects, appears at festivals and events such as Taste Of Amsterdam, Singapore Food Fair in The Netherlands, Christmas Pop Up Food Court, Festival Culinair Amuse Amsterdam, Asian Food Festival and sometimes when she is free, she's in her own kitchen testing new recipes.
Rosie also works freelance as an Cross Cultural Coach for cross cultural training programs for expats who are going to live and work abroad in Singapore and people with Asian background coming to live and work in The Netherlands. With her understanding and experience on both Western and Singaporean culture, she advises clients about integration, culture, social and business in Singapore.
In 2014 Rosie starts her new food weblog www.rosiegohres.com. Her weblog aims to share her passion about food and recipes.  Occasionally she will write recipes so that everyone can share and cook at home. From her experiences teaching people how to cook (asian and non-asian food), she says that people who have no experience in cooking should not be afraid to try. Start with simple recipes first and if you burn your food there's always a second chance. Practise makes perfect 🙂  Since Rosie is living in The Netherlands, all her ingredients in her recipes are bought here. So you can be sure you can get your hands on the ingredients in the Asian tokos or supermarket that she uses in her recipes. Her blog also features Chef interviews from all over the world, restaurant reviews, festivals and events.
Do share Rosie's articles and recipes with your friends etc on social media and forward this weblog url so everyone knows where the source comes from. For those who wish to publish or print articles or recipes from this weblog do give credit to Rosie (rosiegohres.com) and also inform her first via email info@rosiegohres.com before you publish on your website or print.
All articles, recipes, photos(images), text and data are copyrighted. All rights reserved.