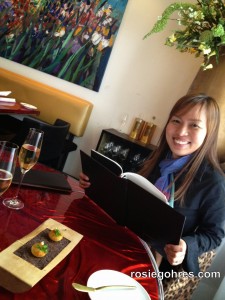 Love . Food . Rosie
A Foodie, a Foodmonster , a Singaporean living in Amsterdam, The Netherlands. A natural born teacher (not a preacher :-0 ), she's a cooking instructor specializes in Singaporean/Asian food in Amsterdam. With her deep knowledge of European culture and Eastern roots, she works freelance as a Cross Cultural Coach. Like an ambassador for her country as a country specialist she advises international professionals and their family members the important cultural information on how to succeed professionally and personally in their new country – Singapore.
Dutch in a certain way (she speaks her mind and someone during her cooking lesson asked if she is Dutch 🙂 ) and she is also Un-Dutch in many ways. Loves travelling, culture, music, animals and of course Food! What else? 🙂
Follow Rosie's weblog on her food journey and the places she stops by for a meal. Sometimes she is just curious to try out new places. An independent and unbiased reviews on restaurants. She doesn't write an A4 page review of a restaurant as she believes to keep it straight to the point.
Also interesting interviews from Chefs from all over the world.
Plus there are also Rosie's recipes in this weblog. Recipes that are easy and delicious for everyone to try out and I'm sure you will like it.
Love . Food
Rosie
Foodblog: www.rosiegohres.com
Facebook: https://www.facebook.com/rosiegohres
Cooking Workshop: www.flavoursofsingapore.nl