There are so many Indonesian restaurants in The Netherlands. The "rijstafel" (rice table) as we call it here are so popular that many tourists are so curious about it. But what makes Restaurant Blauw stands out among others is their authenticity, refinement of the dishes and outstanding food. This is the best Indonesian restaurant here so far. I have been to this place countless times and brought friends and visitors here and we have not been disappointed. Even though with my background I can cook these dishes, it is really a pleasure to come here and enjoy the food (at least someone else is cooking for me). So this is my favourite Indonesian restaurant here. I have been to the branch in Amsterdam and Utrecht. There is a slight difference in the menu. But the quality is just the same; very good.
In Amsterdam branch, we usually order the main course "Selera Blauw" which is a rice table that includes meat, fish and vegetables which has about 15 small dishes which includes vegetables, sate kambing, satay ayam , telor etc too much to mention , sometimes we order additional main course "Daging Rendang"(stewed beef) when we are with big eaters 🙂 And for the starters if we are hungry we order "Aneka Laut Lilit" which means miscellaneous of seafood twirl in this case they are being wrap around lemongrass.
I love their sambal too which is spicy and dip with the kropok. As for the desserts, Javanese Panacota or Es Ketan Hitam (black rice pudding). I think not many westerners will like the taste of black rice pudding but I like it a lot. It's an Asian thingy 🙂 And if your order coffee, a nice little treat comes with it – "spekkoek" an Indonesian layered cinnamon chocolate cake.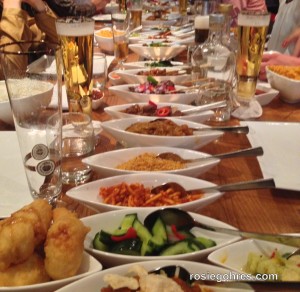 Even with a group of 20 people dining together, their service and their food are just excellent. No hiccups. Of course reservation is a must and pre-order the rice table.
So don't forget to make a reservation when you want to visit Blauw. You might be disappointed. Once I did a last minute call on the day itself to the branch in Amsterdam, they apologized they were full house so we rang up the branch in Utrecht. Lucky us, we got the reservation and drove to Utrecht.
Food (9/10) Service (9/10) Ambience (9/10) Price/Quality (9/10)
Restaurant Blauw Amsterdam
Amstelveenseweg 158-160
1075 XN AMSTERDAM
T: 020 67 55 000
Open: Mon-Thurs 18:00-22:30
Fri 18:00-23:00
Sat 17:00-23:00
Sun 17:00-22:30
Restaurant Blauw Utrecht
Springweg 64
3511 VT UTRECHT
T: 030 234 24 63
Mon-Thurs 18:00-22:00
Fri 18:00-23:00
Sat 17:00-23:00
Sun 17:00-22:00
(NOTE: As of 1 November 2015, Chef Agus Hermawan left Restaurant Blauw )