I have to admit, I love Mexican food. I mean the real Mexican food and not Tex-Mex. Our visit to Mexico and the different regions  has open my eyes to the real Mexican comfort food. I love their culture and food. Their food in different region is so diverse yet very flavourful. In this recipe and after confirming with the Mexicans there is no garlic in guacamole, no chilli sauce in guacamole, no tabasco in guacamole, no cumin powder in guacamole. And the most important part is to find the right avocado. Which means finding the hass variety avocado. They are smaller compared to the "ripe and ready to eat avocados" and hass avocados are creamy in taste. I find most of the un-hass variety avocados in The Netherlands are just to bland, no flavour and it's like water bombs. Once in a while if I am lucky I can get it in the vegetable shop. Check out our Best Mexican Guacamole Dip recipe below.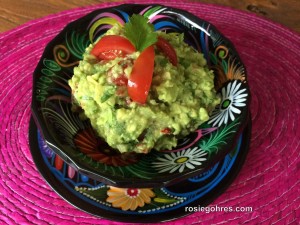 Servings: 2 people
Prep Time: 10 mins
Ingredients:
Steps:
In a bowl, add avocados, shallots, chillies and lime juice.
Using a fork, crushed roughly the ingredients. Do not puree them.
Add the cherry tomatoes cubes (optional).
Add chopped coriander leaves. Add salt and pepper to taste.
Use a spoon and mix.
To make the guacamole smooth and shiny according to one Mexican lady, add extra-virgin olive oil. Mix the ingredients but do not over stir.The guacamole should have rough and smooth chunks of avocados.
Best to serve immediately or refrigerate for a while. To prevent oxidisation and when the guacamole is in a bowl, take a plastic cling wrap and press it directly on the guacamole so that no air is trapped underneath. Yes the guacamole sticks on the plastic wrap but this is to prevent oxidisation that it doesn't turn brown. Refrigerate for a few hours.
Recipe Notes
Choose hass avocados that are ripe (not overripe and not green).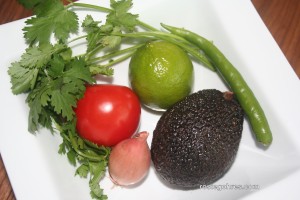 Rosie Gohres | www.flavoursofsingapore.nl | www.rosiegohres.com