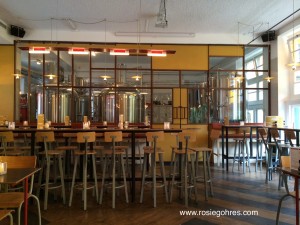 Located in the east of Amsterdam, this cafe is actually a brewery. They brew their own beers namely Troost Blond (4.8% alc), Weizen (4.7% alc), Saison (6.8% alc), Tripel (7.5% alc), Bok (6.5% alc), I.P.A Indian Pale Ale (6.5% alc) and Imperial IPA (7.2% alc). To be accurate these guys are brewing Dutch beers!
This small brewery cafe serves food and you can book a personal tap for your own group (reservation needed). I liked their Nacho Burger (ala Mexican style : beef patties with jalapeño cheese and nachos) which was served with fries and salads but it seemed they have taken it out of their menu. Too bad as it was really good. And if you are a BoB (a person who cannot drink because he has to drive the rest home) an alternative is their homemade ginger ale with fresh mint… yum! Their simple yet delicious Eton Mess dessert is a must have.
It is an enjoyable place to chill out especially sitting outdoor (by the front entrance) with a glass of beer and some snacks. However at this moment they do not have a terrace in their back garden. Their Dutch beers are their plus points.
As this place emphasizes on being a brewery/cafe, the interior is somewhat lacking in a cozy atmosphere which Dutchies called it not so "gezellig".
Paid parking.
Food (7/10) Service (8/10) Ambience (7/10) Price/Quality (7/10)
Brouwerij Troost
Cornelis Troostplein 21
1072 JJ Amsterdam
Call: +31 20 737 10 28
Opening Hours :
Mon-Thu: 16:00h-01:00h
Fri: 16:00h-03:00h
Sat: 14:00h-03:00h
Sun: 14:00h-0:00h