Restaurant Blauw is known for their famous Indonesian "Rijstafel" (Rice Table). When we had the chance to try out something new, I was delighted. Modern Indonesian Cuisine? I asked. Yes, Chef Agus Hermawan said. Try it and tell me what you think of it. I was curious. In my mind, I was thinking fusion? I have always been curious about trying out new dishes and I must say I was looking forward to it. I had interviewed Chef Agus Hermawan prior to the tastings and I can understand his concept and his ideology of presenting and giving "a new look" to Indonesian food while remaining true to the roots of Indonesian cooking (coming soon read on Chefs Interview). Knowing how to and which Asian ingredients match with which and pairing with local produce is what Chef Agus tries to achieve. He succeeded in convincing me that this is it. His vision was shown in the dishes he has created. While tasting 6 dishes in total, I can taste the Indonesian spices behind each and every dish. And this is what I call Modern Indonesian Cuisine and not fusion.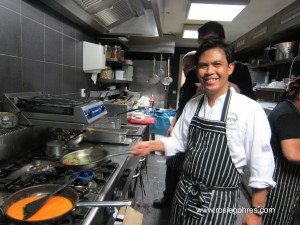 While Chef Agus was busy being filmed in the kitchen for the next Masterchef series where he will appear in the Masterclass session. We were being filmed too as extras " being served food by Chef Agus" . Excitement set aside, here are the dishes.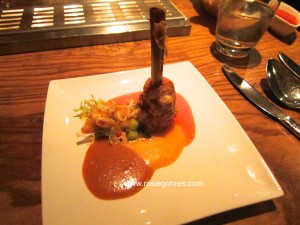 Sate Lilit – Literally mean wrapped "meat" .This dish is made with minced crab and prawn wrapped around lemongrass stick with dipping sauces of chili, mayonnaise, ginger peanut sauce. Vey smooth taste, a balance with lemongrass, chili, ginger and peanut.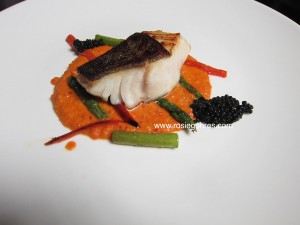 Tamarind Codfish with Asparagus – Codfish slowly seared and in oven on a bed of sauce with tamarind, lemongrass, ginger, paprika with asparagus and caviar topping. I love the sauce which had a mix of tangy and spicy chili after taste. The combination of cod with Asian spices , western asparagus and caviar is a very good blend of Asian mix with Western.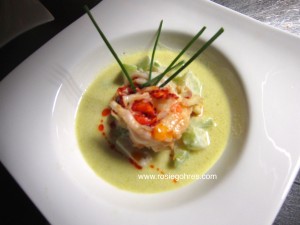 Pumpkin Lobster with Lime Coconut Juice – It is hard for me to choose which of the 7 dishes is my favourite. If I have to chose one, this is my favourite. Well balanced combination of pumpkin and lobster. A smooth light tasting broth of coconut milk combined with a lightly tangy and fragrant Asian lime "limau jeruk" . The broth has taste combination of "limau jeruk", lime leaves, lemongrass, coconut milk. The coconut milk versus the limes and lemongrass give it a light refreshing taste. Goes well with the lobster.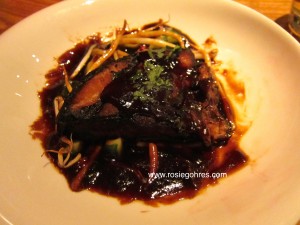 Babi Bakar – Literally mean Grilled Pork. This pork belly (buikspek in dutch) was grilled for 5 hours according to Chef Agus Hermawan. What is interesting about this dish is that the fat of the pork belly is totally gone. Yet it is soft and juicy. It almost tasted like grilled salmon. Served on a bed of cucumber, bean sprouts "taugeh", star anise and soya braised in the juice of the pork belly.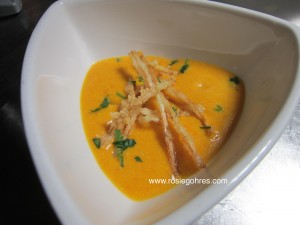 Pumpkin Soup – Not just any pumpkin soup but an Asian one. It is cooked in coconut milk, lemongrass and chilies. Coconut milk and lemongrass are a good combination. Garnished with fried tempura leek.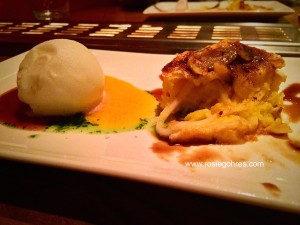 Dessert "Kelapa Tart with Lemon Ice-Cream" – Literally means coconut tart. Not just any coconut tart but one that is inspired from Manado. I love this dessert and I hope he will put it on the menu card. The coconut tart is made with slices of coconut meat drizzled with gula jawa and walnut served with lemon ice-cream made with lemon leaf and drizzled with raspberry sauce. The sweet versus the tangy lemon is divine.
(Please Note: Chef Agus left Restaurant Blauw as of 1 Nov 2015)
Food (9/10) Service (9/10) Ambience (9/10) Price/Quality (9/10)
Restaurant Blauw Amsterdam
Amstelveenseweg 158-160
1075 XN AMSTERDAM
T: 020 67 55 000
Open: Mon-Thurs 18:00-22:30
Fri 18:00-23:00
Sat 17:00-23:00
Sun 17:00-22:30
On Youtube: