A trip to Sabah in 1999 has made Dutch born Olaf Teunissen left his job in The Netherlands to lived and worked in Sabah for more than a decade where he met his wife Wana. Left his IT job to become an entrepreneur in a foreign land, he is a tour guide specializes in custom made tours in Sabah and the surroundings. With interesting activities, guided tour, expeditions and his Homestay house for the guests, he and his team (family) will make your stay an unforgettable one.
Website: http://www.sabah-borneo.com
Q. When did you decide to leave The Netherlands and how did you end up in Kota Kinabalu Sabah?
I decided to leave when I first arrived in Kuching, Sarawak. It was on a group travel holiday. The first day of my travel  I started to realize that making a new start in the Netherlands was an uphill task and by selling my house, I could have a much better start outside the Netherlands. Why Borneo? I don't know but it was the time in my life that I was searching for change and my planned holiday was Borneo. My feelings started after landing in Borneo, I felt home immediately and my plans started to form.
The reason I chosoe Kota Kinabalu above other cities is that KK is a seaside city with beautiful views over the blue sea. Mount Kinabalu is only a 2 hours drive for much needed cool air and jungle in the rest of Sabah is amazing. Second thing is my Tourist Visa, which is easy to renew in Brunei (4x a year) while for Sarawak it is Pontianak in Kalimantan which is much further and 12x a year renewal. KK is the best option.
Q. How did you met Wana? 🙂
On my first trip, I went to Poring Hot Springs and did the Canopy Walk. There I met 4 young girls and they asked me for a photo. Their camera broke down and we used my camera (in 1999 no digitals yet). This was a 5 minute encounter and on returning home in the Netherlands I had forgotten about it. I went back to Sabah 4 weeks later and made an appointment through email to deliver the picture in person. There I met 6 girls and I treated them Kentucky Fried Chicken. They invited me to their village house and I stayed with this family for 3 days. On my last day in my second holiday I visited them again to say goodbye. The oldest daughter was also at home. She told me that she was in Poring when I met her sisters. She was dating her boyfriend and gave her sisters a camera to chase all white man in the Park. That was when they found me and the camera broke. Well that was how it started. If you want to know how this story ends, visit me in KK and I tell you the romantic parts. We are 13 years married now and have 2 kids, Hakim 10 and Aishah 9.
Q. Do you miss The Netherlands and Dutch food?
No, I changed potatoes for rice. Strange is that the only thing I really missed is drinking water from the tap. Now it is boiled water or bottles. Besides that my mom always brings cheese and 'pepernoten'.
Q. When is the best time to go for holidays in Sabah?
Basically, all year round is the best answer. In Kota Kinabalu we do not have a wet season, we do have a dry season in February/March.
Q. About your tours, can people book an all-inclusive tours with you? 
Yes, I listen (or read) the questions and I will propose a travel program. I started as a tour guide (went 4 months to school in KK) and slowly enhanced my network and now I am able to make a full holiday program. From transfers, local flights, excursions, special needs, all I can arrange for you. Just contact me by email.
Q. Is your Homestay in your own house and how many rooms available?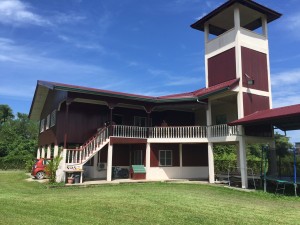 Yes, Homestay is the same house as we live in. We build the house ourselves and started with 3 small rooms and 2 bathrooms. We have now only 2 rooms downstairs and 1 bathroom. I only accept bookings for 1 couple or 2 couple friends or small families. The Homestay is an added service to my guest so they can experience life in Borneo.
Q. How many days/weeks is enough to see Sabah?
For some it is never enough but 7 days is a good start. To see Sarawak and Sabah, 3 weeks would be ideal.
Q. What will you recommend for a complete tour, sight-seeing and things to do for one week in Sabah?
If you are here for 1 week, then an island trip in Kota Kinabalu, daytrip Kinabalu Park/Poring and a 3D/2N Safari in Sandakan but.. so many more options to do.
Q. Can holiday makers watch turtle landings?
Haha, nice how you put this question. Yes.. we can. All excursions we can follow free of charge. This is the nicest part of my job, we need to have the knowledge and see everything first hand, before selling it to potential customers. I can proudly say, that I know almost all persons in the offices as well. This is very helpful during bookings or securing that last place available.
Q. Which is the best island in Sabah to go for diving?
Best island is Sipadan. Layang Layang is second. But… we have so many places which are really worth a visit like Lankayan, Mataking and many more. These islands are not cheap though, but will give you a real paradise feeling with perfect snorkeling and diving.
Q. What type of food is typical of Sabah? 
I like eating. From hawkers with satay, fruit juices to seafood. Kota Kinabalu has so much to offer in food. Real local food, hmmm, it is not my taste. For example the Sago worm, this is eaten alive. Hinava fish pickles, not the taste I am used to. However, the locals (except for the worms) like their local food.
Q. 3 words to describe Sabah?
Green, blue, humid.
Q. What are your advice to travellers going to Sabah?
Never forget your camera, bring sunblock and raincoat.
Q. Tough question ; Will you return to The Netherlands or are you staying in Sabah for good? 🙂
Easy answer, I will stay here as long as I am happy. That's already 15 years ☺ and now being married and having kids, why should I go back to the Netherlands? 🙂
Q: Memorable story in Sabah?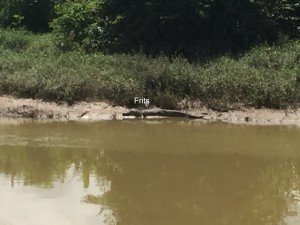 Our pet crocodile: Frits 🙂
In 2008, I had guests in my Homestay, Michael and Ariene, and they were the first who spotted a crocodile in front of our house. First, I did not believe them and told them that it was a large monitor Lizard ('varaan' in Dutch). But they insisted that it was a Croc and showed me through their Swarovski Binoculars. Wow.. we have a crocodile in front of our house!
In the following years we gave him a name and called him Frits. Sometimes he was gone for months and one day he suddenly appeared on his small muddy bank at the river. All my Homestay guests enjoyed seeing Frits.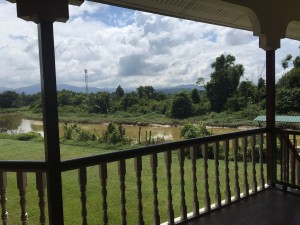 2 years ago, my guests were having their breakfast on the veranda. They saw something swimming in the river. I told them that it was a monitor lizard but.. he has to be careful, because Frits is not so far away. When I stopped talking, Frits jumped 1 meter out of the water, holding the monitor lizard in his mouth. He swam to the side and started rolling. The death roll lasted for 2 minutes and then all became quiet. The monitor lizard was stucked between Fritz mighty teeth and kept very quiet. Then he moved his leg and Frits started rolling again. He managed to get the lizard straight and the whole lizard disappeared in the mouth of Frits. Frits climbed out of the water and started sunbathing with a full stomach.
My guest and I, we looked at each other and started laughing. Wow, that was better then National Geographic and we had first view from our veranda.
Now 2014, Frits is getting bigger and bigger. Many people like my family are pushing me to give my pet (Frits) away since he is starting to pose a danger for the local fisherman, my dogs and my kids. So yesterday, the Wildlife Department came by and they are going to put up a trap so that Frits can be relocated to a remote area.
Feeling sad that after so many years, my pet Frits will longer be around the house.
More pictures of the setting of the trap and if they catch him, will be on my Facebook.
More updates on Frits: https://www.facebook.com/pages/Olaf-Borneo/313696925445367