Dosa is one of my favourite South Indian food which reminds me of one Indian "fast food" restaurant in Singapore. Simply put, dosa is a hearty Indian crispy crepe.
Here in this restaurant they are not only serving South Indian food but North too.
Typically when you enter an Indian restaurant here it is best to ask whether their chefs are from south or north India. If the chef is from south best to choose south indian dishes.. like dosa a southern delicacy.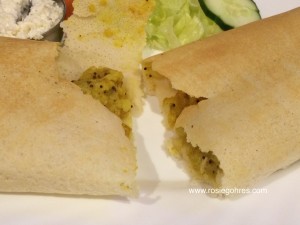 I ordered masala dosa a vegetarian version with mango lassi (my favourite too). I was not so keen on trying chicken or mix meat with potatoes. The last time I tried that in another restaurant the result was bad. My dosa came and it was average. It would have been better if the dosa was a bit warmer, more golden and crisp and generous with the potatoes filling. I was a little disappointed with this €14 masala dosa.
The sambhar a lentil based vegetable soup was very rich and spicy. I like it. The coconut chutney was a bit bland. I know dosa should be accompanied with sambhar and coconut chutney but I miss having a mint chutney at the side something fresh to match with the spicy sambhar. Seriously I wouldn't mind if they took away the tomatoes cucumber salad at the side. Just not needed and it doesn't go well with an Asian dish.
I had 2 glasses of mango lassi because I like it so much.Rich and creamy and also the food was spicy (yes even for an Asian like me who can take spicy food).
Dosa is not an easy dish to make (with the fermentation of the batter) and here in The Netherlands expect prices to be on the high side €14 for masala dosa.
The interior could do a little re-decor.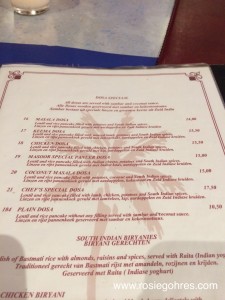 Apart from dine-in you can also order online for delivery.
Food (6/10) Service (6/10) Ambience (6/10) Price/Quality (6/10)
Address : Overtoom 146,
1054 HN Amsterdam
Fax : 020-6895073
Tel : 020-6164838
Opening : Monday to Sunday : 16:00 to 23:30
Times for delivery at home : Monday to Sunday : 17:30 to 22:30