Situated in Amsterdam Oost (East), this little gem is the place to be if you like to go to a "happening" place. Meaning hip, good food, drinks , music , fun and more fun. Smokin'Barrels is very lively with young and older people. As I find it hard to find a chill out lively place in Amsterdam that combines good food, reasonable price of  lobster and burger, friendly staff,  this is a no pretentious place that I like to go for a casual fun night of dinner. If you like the food but not the noise then come during day for their brunch. They also have an outdoor terrace.
So far I have not been disappointed with their food. Not for dinner or brunch. Usually when we had to wait for a table , we would sit at the bar counter for drinks and snacks (bitterballen and dirty duck spring rolls).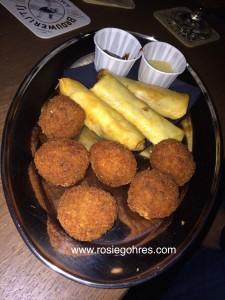 The Smoking Barrel burger and Ari burger (with duck liver) are a must try if you are not chicken feet about eating duck liver.  The Spring Chicken is not my favourite , too salty for my liking.  Of course the Surf & Turf (burger and lobster ) is my favourite too. You can opt to choose for your choice of burger and combine with a lobster. I'm here for the burger and lobster so don't ask me about the salad 🙂  The Cote De Boeuf is also very good (steaks for 2 persons).Red Velvet Cake is just ok.
A wide range of drinks such as cocktails, beer cocktails, beers and you can ask for non alcoholic cocktail too (even if it is not on the menu).
For Brunch the heavenly blueberry pancakes, chicken sandwich , milk shakes are a must try. If you are up to it like I do, go for the Surf & Turf (lobster and burger) for brunch.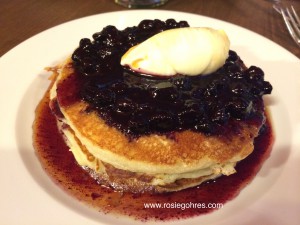 Pros: Although no reservations, the staff is friendly and will take down your name on their waiting list. Get a drink while waiting for the staff to call out on you when the table is available. So far they have not forgotten to get a table for us. Friendly staff. Best to have food with friends and for fun. Go for the brunch if you like to have a quiet day or after a hangover the night before.
Cons: No reservations. Crowded and noisy as this is a hip place. Music is a little bit on the loud side. Not advisable if you are going to have a serious conversation with friends. Not advisable to bring children for dinner.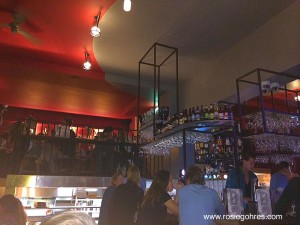 Food (9/10) Service (9/10) Ambience (8/10) Price/Quality (9/10)
Address:
Beukenplein 22, 1091KH Amsterdam
Tel:+31 (0) 20 693 3555
Opening hours:
mon-thu: 17.00-01.00
opening hours kitchen: 17.00-22.00
fri: 17.00-03.00
opening hours kitchen: 17.00-22.00
Sat: 12.00-03.00
brunch: 12.00-16.00
dinner: 17.00-22.00
Sun: 12.00-01.00
brunch: 12.00-16.00
dinner: 17.00-22.00