I would like to share with you this wonderful recipe. I know Bubur Pulut Hitam (Black Glutinous Rice Pudding) is painstakingly time consuming to make as you will have to soak the glutinous rice overnight, cooking and stirring it continuously so that it doesn't stick at the bottom of the pot and making sure that the rice fully split and soft.
I have tested and have been making this Bubur Pulut Hitam numerous times without breaking a sweat and cooking it instantly as and when I feel like wanting to eat it on the day itself. Well the only thing you need is a Rice Cooker with a "Porridge" function. Most basic rice cooker does not have this function so if yours does not have it go out and buy one 🙂
Bubur Pulut Hitam (Black Glutinous Rice Dessert) is easy to make, with a few minutes of preparation and you leave the rice cooker to do its job for about 90mins while you sit down, read papers, drink a cup of tea or even taking a nap. No need to stir at all.
Making Bubur Pulut Hitam is as easy as 1-2-3 without breaking a sweat. Enjoy this secret recipe!
Servings: 6-8 people
Prep Time: 5 mins
Cook/Passive Time: 90 mins
Ingredients:
Steps:
Wash the rice a few times until the water is clear. Do note that the water of the rice would never be clear as this is the black glutinous rice. Drain the water.
Switch on your rice cooker. Add the glutinous rice and water into the rice cooker.
Add a pinch of salt. Stir.
Wash and tie the pandan leaves in a knot and add into the rice cooker. Embed it in between the glutinous rice.
Close the lid and press the button "Porridge" and start.
It will take about 90 minutes to cook depending on your rice cooker. Do not open the lid, Just leave it to cook until it is ready it will switch to "warm" function which means the content is ready. Then open the lid and stir. By now you will see the grains are fully soft and split nicely. Compared to cooking in a pot where you have to constantly check and stir to make sure the glutinous rice doesn't stick to the bottom of the pot and properly cook. This is an easy peasy method.
Add gula jawa syrup. If you use blocks of gula jawa or gula melaka, then you have to dilute/melt first by cooking in a pot with some water. Add in small batches into the glutinous rice to get the taste you required. Some people prefer sweeter than others. Stir well.
Add coconut milk 150ml. Stir. Ready. You can leave it at the "warm" function until you are ready to serve.
For the coconut milk drizzle: In a small pot, simmer 50ml or more coconut milk. Add salt to taste. Simmer for a few minutes. Set aside.
To serve: in a bowl, scoop the black glutinous rice. Drizzle some coconut milk to your liking. Serve warm.
Recipe Notes:
Some people prefer their pulut hitam diluted whereas others slightly thicker. This dish can be kept in the fridge for at least 3 days. And heat up either in microwave or simmer in a pot. You'll notice that the day after, the bubur pulut hitam is slightly thicker.
If you don't have a rice cooker with a Porridge function, then you will have to rinse and soak the black glutinous rice the night before. Cook in a non-stick pot. Keep stirring on medium-low fire. Watch out for the glutinous rice that it doesn't stick and the grains fully split and soft. Cooking time will be about the same.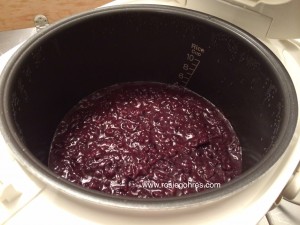 Rosie Gohres | www.flavoursofsingapore.nl | www.rosiegohres.com