An easy foolproof recipe. Can be made with different flavours such as chocolates, grand mariner , vanilla etc.
Servings: 24 pieces
Prep Time: 20 mins
Cook Time: 12 mins
Passive Time: 1 hour
Ingredients
Servings: pieces
Instructions
Melt butter in a pan.
Add milk and stir on low fire. Switch off fire. Leave to cool.
In a mixer, break the eggs and add sugar. Whisk for 5 minutes.
In a bowl add flour and baking powder together and mix well.
Add the butter mixture slowly into the egg mixture. Slowly fold in.
Add the flour mixture in small batches. Slowly fold it in.
Transfer into a bowl, cover with cling plastic wrap. Put in the fridge for one hour.
5 mins before taking out the bowl from the fridge, switch on the oven at 190 degrees celsius.
Using the madeleines tray, grease the tray with butter.
After resting for one hour, take the bowl mixture out of the fridge.
Using a tablespoon, spoon one tablespoon of the mixture into each madeleine mould.
Bake for 8-12 minutes. Until golden brown. Check your madeleines up to 8 mins using a toothpick. Prick through one madeleine, if it comes out clean then it is ready. If not bake one or two minutes longer depending on your oven.
Recipe Notes
The baking time will depend on your oven. I have a bigger oven and it takes me 12 minutes to bake the madeleines.
As for the flavours, I made mine with vanilla, sometimes with grand marnier and even chocolate madeleines.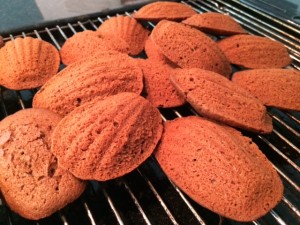 Rosie Gohres | www.flavoursofsingapore.nl | www.rosiegohres.com