Another delicious recipe which you can easily replicate at home. Fried rice with fa chong chicken sausage. This recipe uses the smoky flavours of dried chinese sausage. The good thing about this recipe is that you can always keep a few packets of these sausages in your fridge or freezer. And whenever you are in need of a quick cooking, you have the meat ready in the fridge.  A few other basics are needed such as light soya, mushrooms and vegetables. You can also add omelette, fried eggs, fresh chillies, sambal, kropok. Fa chong sausage comes with 2 version chicken or pork (lap cheong). You can find them in the refrigerate or freezer section in the took Asian supermarket.
Servings: 4 people
Prep Time: 5 mins
Cook Time: 20 mins
Ingredients:
Steps:
Cook your rice using a rice cooker. When the rice is cooked. Leave it to rest and cool down. You might also want to use leftover white rice from the day before.
Heat a wok over medium-high heat with 1 tablespoon of oil.
Add garlic.
When the garlic is light golden in colour, add fa chong chicken sausage. Fry until is cooked. (don't browned the sausage)
Add a splash of sesame oil.
Add vegetables and mushrooms.
Once the vegetables are crisp and mushrooms ready, add rice.
Add light soya sauce until you get the right flavour. No need to add salt.
Add slices of spring onions.
Serve warm.
Recipe Notes:
Optional: You can also fry an egg or omelette and serve with the rice. If you like spicy, add fresh chillies or use sambal at the side.
Cooking time is 2o mins if you already have your rice ready or leftover from yesterday. Otherwise take into consideration another 25 mins of rice cooking time.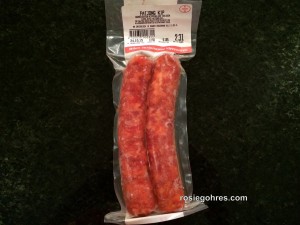 Fa Chong (Chicken Sausage)
Rosie Gohres | www.flavoursofsingapore.nl | www.rosiegohres.com