One of the traditional recipes, roti prata is famous in Singapore and Malaysia. In Malaysia, it is called Roti Canai. This is the Asian version of flat crispy yet soft pancakes and serves best with curry or just dip in sugar. Although western pancakes are desserts, roti prata is well just too filling to be categorized as a dessert. Roti prata is commonly sold in hawker centres, restaurants and cafes and the best are from the Indian shops made by the "mamak" (Indian man).
Over the years, roti prata has evolves itself; there used to be roti prata kosong (plain prata) or roti prata telur (roti prata with egg) but nowadays you can order roti prata pisang (roti prata filled with banana), roti prata cheese (roti prata with cheese) or tissue prata (paper thin prata). Using the same dough, you can also make "murtabak" a big brother of roti prata with meat curry fillings, egg and onions. The spelling also differs sometimes it is "Prata" or "Paratha".
If you cannot swirl, flip and toss the roti prata dough like the mamaks, do not worry. Use your palm with some oil, flatten the dough on a clean kitchen top and stretch the dough on all sides till it is flat thin. Never use too little oil with making and frying roti prata or else the dough either stick on your kitchen top or the dough does not cook well in a flat pan. In my recipe, I do not use milk or "ghee". It looks like a simple recipe but the challenge is to make the dough with the right amount of elasticity and you have to knead the dough well!
For food places and information about Malaysia explore this beautiful travel website: http://www.wonderfulmalaysia.com
And their website in Dutch : http://www.veelzijdigmaleisie.nl
Servings: 8 people
Prep Time: 30 mins
Cook Time: 10 mins
Passive Time: 2 hours
Ingredients:
Instructions:
1. I use my kitchen machine to make the dough. If you do not have a kitchen machine, you can also knead the dough with your hands. In a bowl or container of the kitchen machine, pour in all the flour, egg, salt and sugar. Mix well and slowly pour in half the amount of the oil (150ml). Mix/knead well. Then add in the remainder of the oil. Mix or keep kneading. Gradually pour in at least half the water first (200ml). By this time it becomes sticky. Pour in the rest of the water (250ml). Mix or knead well. If you are using a kitchen machine, use a dough hook and let it spin for at least 5 minutes on low mode until the dough has form a round soft shape. Stop the machine and test the elasticity of the dough by stretching some of the dough with your hands. It should not be sticky but soft, spongy and elastic. Continue spinning the kitchen machine for another 1 minute. If you are kneading by hand, knead until you get the same results as mentioned before.
2. Once your dough is ready, form it into round balls at least the size of an apple. You can get about 8 dough balls with 1kg of plain flour. Put the dough balls on a tray and oil the top of the balls with some sunflower oil. Cover the tray with a cling wrap and let it rest for at least 2 hours.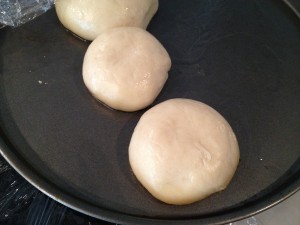 3. Once the dough is ready in 2 hours, make sure you have a clean kitchen top and use sunflower oil and oil that part of the kitchen top where you are going to place the dough. Oil a bit of your palm and start to press down with your palm and stretch the dough by lifting the edges and stretch on all sides. If making a plain prata, fold the top and bottom end where they meet in the centre and the lastly fold the 2 sides. Now it should look like a rectangle shape. If you prefer roti prata telur (roti prata with egg) break an egg before you start folding.
4. Heat a flat pan with about 3 tablespoons of sunflower oil. On medium heat and once the pan is hot, slowly place your prata in the pan. Once one side is golden brown, flip the other side. If the oil is drying up, add a few more tablespoons.
5. Fry till golden brown or cooked.
Recipe Notes:
Enjoy your own homemade prata with sugar or curry. I teach how to make a delicious chicken curry in my workshops.
Rosie Gohres