A quick stir fry for vegetarians. The soya chicken is 100% made from soya and you can buy it in The Netherlands in Toko Sie-San in The Hague. These vegetarian 'meat' products are popular in Asia as they do not taste like 'fake' rubbery soya.
This recipe vegetarian soya chicken with cashew nuts is great to be served with white rice, couscous or quinoa.
Servings: 2 people
Prep Time: 15 mins
Cook Time: 20 mins
Ingredients:
Steps:
Heat up the wok and add 2 tablespoon sunflower oil.
Stir fry soya chicken for 2 minutes on each side and take out. Set aside.
In the same wok, add 1 tablespoon sesame oil.
Add garlic, onions, capsicum and ginger.
Stir fry for a few minutes until you smell the aroma and the capsicum is slightly soft.
Add the vegetarian chicken chunks. Stir fry for 3 minutes.
Add chinese rice wine, light soya sauce and dark soya sauce.
Add cashew nuts.
Add honey.
Add black pepper to taste. Stir fry for 2-3 minutes.
Ready. Serve warm with rice.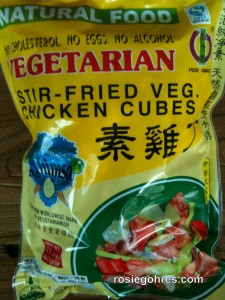 Rosie Gohres | www.flavoursofsingapore.nl | www.rosiegohres.com