Angelique Schmeinck is a Dutch born Masterchef. Born in 1964, she began cooking at a very young age of 16. She is one of the two Lady Masterchef in The Netherlands. In 1998 she rises to stardom as the Lady Chef of the Year. A creative and adventurous person, she is always busy finding strong combination in ingredients. In 2000, she started her company Taste to Taste and thereafter in 2003 CuliAir ….
Q. Everyone is talking about your Hot Air Balloon Restaurant. Tell us more?
Since 2003 I have my own restaurant the hot air balloon restaurant, CuliAir. CuliAir Sky Dining is the only once in a lifetime experience hot air balloon restaurant to use the hot air from the balloon itself for cooking. It can hold up to 14 persons for dinner.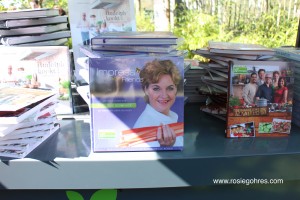 I write cooking books such as Een Mond vol Kunst ( inspiration between cooking and art) Smaakvrienden Groenten, Smaakvrienden Fruit, Impress Your Friends. I am a presenter in the 24Kitchen, The Taste Of Cooking. Very soon we will have a new program maybe in May. (hush hush we will have to keep a look out for this one. It's a secret).
Q. People say Chefs don't cook at home? Is this true for you?
I cook everyday at home. I like good food. I don't have to cook a big menu at home but I want everyday to be delicious. Fresh beautiful fish, chicken, beautiful vegetables on the plate.
Q. Your memorable experience as a Chef?
The first time when I started my restaurant CuliAir when we were in the air. The menu was salad with lobster for the guests.
Q. What is the challenge cooking in the hot air balloon?
To cook and present food on time. Everything has to do with the timing to land before the sun goes down. I have to cook 3 dishes for 14 persons in the balloon within 30 minutes. I have to make sure I am ready 5 minutes before landing.The challenge is in the logistics and since I have done it many times that is something that I have overcome.
Q. Do you have a favourite ingredient/s?
Porcini mushrooms, Holland asparagus, oranges, star anise, tarragon, young green beans.
Q. Do you have a favourite restaurant?
I don't have one favourite but many from my colleagues. In Maastricht by Hans van Wolde (Beluga), Jonnie Boer (Librije) and Hotel Restaurant De Echoput in Apeldoorn.
For CuliAir Sky Dining experience visit : http://www.culiair.nl