Chef Mounir Toub (1978) is a familiar face in 24Kitchen a Dutch cooking programme. He has been in the hospitality industry since he was 14 years old. A cooking enthusiast and a foodie he not only spend his time juggling between his work and passion but he also wants to inspire the young talent by sharing his knowledge. In 24Kitchen Chef Mounir shows and inspires viewers how to cook Arabic/Moroccan dishes.
In Singapore, Morrocan restaurants are few and this cuisine is not so well known so it is a pleasure to get to know more from Chef Mounir about this cuisine.
Q. Tell us more about yourself?
My name is Mounir, 36 years old and I live in Eindhoven , The Netherlands. My parents are from Morocco and I am the second of their three sons.
I work part-time in the hospitality industry when I was 14. From 18 years old onwards I enrolled in the chef training school and after that I worked in a few michelin star restaurants. I learned a lot from the master chefs during my work. When I was 25 years old , part of my time I took up HBO training as a "cooking teacher". Since I was 25, I always hold 2 jobs as a teacher in the "chef training programme" and as a chef in a restaurant.
Cooking and teaching the young generation have always been my passion. In 2011, I joined 24Kitchen combined with the other two passions of mine. I feel blessed! Now I am 36 years old and I am still teaching cooking and besides that I do everything that involved cooking such as workshops, cooking demonstrations, writing and also working for 24Kitchen.
Q. Who inspires you to become a Chef?
My mother. My mother always cooks (and still she does) everything fresh at home. She bakes her own bread, makes cookies and cooks the best tajines!. The love for eating and cooking definitely comes from my mother.
Q. What is your favourite dish?
Everything that I can eat, I find delicious. If I have to choose a dish then it is "Bastilla". A delicious dish but it takes a lot of time to make with lots of love put into it.
I would be very happy if I make Bastilla and especially eating it!
Q. A lot of people say Chefs don't cook at home? Is this true for you?
Hahahaha…. Nooo. I cook at home and my wife cook more often than I do because I work 5 days a week and I come back home late at night. My wife is often home and thankfully she is a very good cook. Cooking is also a hobby for my wife thus she loves to cook.
Q. Your memorable experience as a Chef?
Live cooking together with Master Chef Robert Kranenborg at the TV programme "De Wereld Draait Door" with 1.5 million people watching my Bastilla dish. WAUW!
Q. Do you have a favourite ingredient that you often use in your cooking?
Lots of herbs, spices and the most important ingredient: LOVE!
Q. Do you feel if there are any similarities with Arabic and Asian cooking?
Yes. The Asian kitchen uses the same fresh ingredients such as lots of spices and flavours like the Arabic kitchen. Both the kitchen style of cooking takes a lot of time to prepare, "slow cooking" and love in preparing/cooking the dishes.
Q. What is your advice for people wanting to learn Arabic/Moroccan cuisine? Is it difficult to learn?
Advice : Call me for a cooking workshop!! 🙂
Besides that go to Arabic/Moroccan restaurants or to a Arabic/Moroccan family to eat and then try to cook. Just try out in the kitchen!
Q. Any Arabic/Moroccan restaurants which you can recommend to people if they want to try out this cuisine?
In Eindhoven restaurant Chomicha! Delicious Moroccan dishes and good atmosphere.
Q. What do you want to achieve in the next five years in your career? (open restaurant etc? )
To be known more as a TV Chef and to have my own cooking books about the Arabic/Moroccan kitchen.
Q. How do you say "Eet Smakelijk" in Arabic ? 🙂
Besaha oe raha!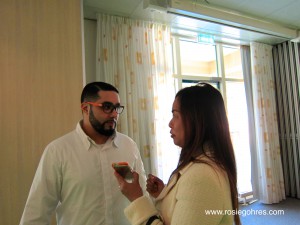 Thank you Mounir for the interview. Now we will have to find a Arabic/Moroccan family and invite ourselves for food 🙂
If you like to learn the Arabic/Moroccan kitchen, do visit Mounir website for his cooking workshops : www.mounirtoub.nl
His website aso features some recipes which you can try out at home.
And for Facebookies: https://www.facebook.com/cheftoub