Dutch Chef Jerry Bastiaan an ambitious chef and entrepreneur has worked not only in The Netherlands but also internationally such as Asia, Europe and in The Middle East. He has proven not only running kitchen operations but also consulting in the development of restaurant concepts. He has achieved Michelin Stars, Top 50 Best Restaurants in The Netherlands and 16/20 Gault Millau. Let's hear what Jerry has to say ….
Q: Tell us more about yourself as a Chef and Entrepreneur?
Well, I'm Jerry, 45 years young, ambitious and always into new and different things. I'm the Executive Chef de Cuisine of the Outrigger Mauritius Beach Resort. Secondly I do own together with a friend a company based in Dubai United Arab Emirates. Green Elephant LLC, founded in may 2013 and introducing to our clients a range of unique products and services from sustainable agriculture, fuel additives to turnkey hospitality solutions.
Q: What type of cuisine do you specialize in?
Allow me to answer in a different direction. After being abroad for years and having been in touch with numerous cultures, ingredients and flavours I've created a preference for ingredients. Spices like; cardamom and Mauritian vanilla, Locally grown rice and seafood like spiny lobster, sea urchins, clams and octopus are some of the best of the world.
Q: When did you leave The Netherlands to work abroad? And how long have you been abroad?
Myself and my wife Agnes left Holland back in in 2007. Nearly 8 years now.
Q: Do you miss your country?
After nearly 40 years living and working in the Netherlands we felt it was time to go abroad. You meet new people, you see new countries and experience new cultures. Holland is beautiful but small. For us it became too small.
Q: Your current stint is in Mauritius; do tell us more about your current role?
As in the name I work for Outrigger. A Hawaii based, family owned company with over 40 beachfront resorts in the USA (Hawaii). Just over 3 years ago Outrigger moved into the Asia-Pacific (APAC) region. Currently we're operating hotels in Phuket, Thailand, Fiji, Guam, Australia and Mauritius, Recently we've bought a property on the Maldives. Opening mid 2015 and we have hotels in China and Vietnam under construction. Both opening 2016.
My current role is overseeing the culinary part of the operations. The hotels has 181 beachfront rooms, 4 restaurants including Mauritius best fine dining restaurant; The Plantation, 4 (infinity) pools a luxury spa, fitness and banquet facilities. And in charge of a team of 80 chef's and stewards.
Q: What are your achievements in your career as a Chef?
The most important achievement is being independent. Do the things you feel you have to and don't only talk about it.
Q: What is your memorable experience as a Chef ?
Memorable in terms of success? My first own Michelin Star, Opening of the Capital Club in Dubai, working for, and with, heads of states. And special moments were: Meeting King Willem Alexander and Maxima in Dubai, Having a glass of red wine with a country president on the terrace of his house overlooking the ocean.
But the most memorable was this morning with my guests. Talking about details like our Madagascar honey and the first Mauritian Litchis. This is what it's all about.
Q: Is it true Chefs don't cook at home? (That's what people like to think?) 🙂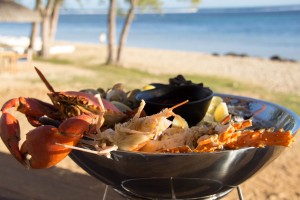 No it's not true! LoL! Chef's who work and live in countries where it's summer 12 months a year, are on their day off in charge of the bbq.
Q: What is your favourite meal/dish ?
Did I mention already my bbq? I don't have a real favourite dish but I would love to have an amazing Indonesian meal. You will not find this in Mauritius.
Q: Do you have a favourite ingredient?
Cardamom, litchis and sea urchin are probably my most favourite at the moment.
Q: What will you be cooking for Christmas Day?
I will not be cooking at home but at the resort. With 4 different themed restaurants a selection of ingredients will be used. Obviously Turkey, Pata Negra ham, Cheeses from Hervé Mons, Oysters, Langoustines, Scallops, Sea urchins and local crab just to name a few.
Q: What is your advice for people wanting to work abroad as a Chef?
Just do it! Take the step and go for it. It will enrich your life and it makes you stronger and more independent. A house, a (car) loan and the comfort of the Dutch social security are never an excuse not to go for it.
Q: Anything else to add?
www.jerrybastiaan.com – www.greenelephantllc.com or follow me on twitter @habibi_jerry