A one on one interview with Chef Agus Hermawan at Restaurant Blauw.
Chef Agus Hermawan (1969) was born in Tasik Malaya in West Java. He is a self taught chef and he learned his cooking skills from his mother. He came to The Netherlands in 1997 and work in Indonesian Restaurants such as Blue Pepper, Spandershoeve in Hilversum where it received a Michelin star in 2008 and then he became a chef of Restaurant Blauw in 2008.
Q. When did you start cooking as a Chef?
Since 1997 when I came to The Netherlands.
Q: Do you miss your country?
No. I am comfortable here in The Netherlands. People here are more direct and easy to communicate.
Q. How long have you been working in Restaurant Blauw?
For about 7 years. I started first in Restaurant Blauw in Utrecht.
Q: Is it difficult to teach your kitchen staff to cook Indonesian Cuisine?
It is not difficult at all. It is easier to teach someone without experience as they will follow your way of cooking.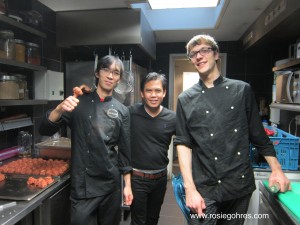 Q. How many kitchen staff in Restaurant Blauw Amsterdam?
3 kitchen staff.
Q. What do you cook for the staff before the restaurant opens for dinner?
Since we cook Indonesian food here, it is nice to have different type of food to eat together. I like to cook Italian such as Tuscan dishes , pasta , risotto and one of the favourite dish which the staff likes to eat is chocolate pasta.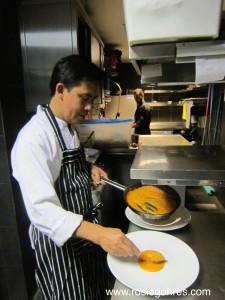 Q: I read you do some charity work such as Stichting Global Clowning, Female Cancer Foundation and others?
I like to do charity work to do my contribution to society. Some of the charity organizations are Stichting Global Clowning an organization for global clowns to do clowning for less privileged children, Female Cancer Foundation in Leiden where I could contribute by using my skill as a Chef. We cooked for a banquet of about 200 people for Ministers and Queen Maxima for a book project "A World Without Cervical Cancer". Stichting Leine Robana where I am the ambassador for "Ghost Track" a dance ballet combining the two culture of western and eastern dance. This is where I cook for the guests to show that food (modern Indonesian Cuisine) can harmonizes with this dance of two worlds.
Q: What is your memorable experience as a Chef?
Memorable experience is when I had to cook 6 course menu for 120 people in the office without water supply. So we had to bring pails of water for cooking. There were oven and deep fryer that were available for cooking. We managed to pull it off for Stitchting Leine Robana.
Q: Is it true Chefs don't cook at home? (That's what people like to think?) 🙂
I love to cook. I cook almost everyday at home. Sometimes 3 times a week as my wife is busy.
Q: What is your favourite Asian meal/dish ?
I like to explore the Vietnamese kitchen and my favourite is the tofu dish from Nam Kee.
Q. How many kilos of beef rendang do you cook for Restaurant Blauw? 🙂
On average we cook 12 kg of beef rendang and simmered for 5 hours.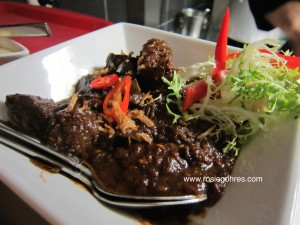 Q: Do you have a favourite ingredient?
Kemiri (Candlenut), lemongrass, kaffir lime leaves, laos (galangal), cinnamon, star anise.
Q. Apart from the traditional classic Indonesian dishes, do you create modern dishes?
Yes I do, I use asian spices and infused it in my dishes. The taste is classic yet modern using local produce (western). 
Q: Which Asian dish is an ideal dish to be served during Christmas ?
Spicy deer with soya but not with coconut milk, duck or rabbit with lemongrass and star anise.
Q: What is your advice for people wanting to learn to cook Indonesian food?
It is important to know how to use Asian spices. You have to be patient, not be afraid and have the love for it.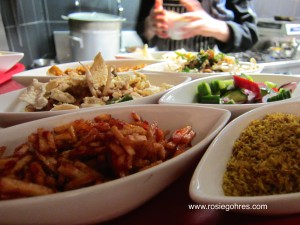 Q: What can we expect from Chef Agus in 2015?
I will be appearing in Masterchef Holland for the Masterclass session.
Q: Anything else to add?
Restaurant Blauw – http://www.restaurantblauw.nl
(Please Note: Chef Agus left Restaurant Blauw as of 1 Nov 2015)
Recipe: Sate Maranggi Purwakarta
http://www.restaurantblauw.nl/recepten/sate-maranggi-purwakarta.html
Youtube: Restaurant Blauw goes to Bali