This coconut lychee tart with vanilla ice-cream can be served as a dessert or afternoon tea-time without the ice-cream :-).  I have baked this numerous times. It is an easy dessert to make for beginners and non-cooks can pulled this off easily too. I think this dessert is great to do it together with your children as well.
We use young coconut meat in this recipe to give it a crunch when you bite and an aromatic taste and juiciness from the lychees. I think coconut meat and lychees are a good combination.
Despite the name coconut and lychee tart this dessert does not use any coconut milk so it is light. A cross between tart, custard and pudding this is truly an enjoyable and delicious dessert to serve when your friends are coming over for dinner. You can always bake it in advance even a week before hand, store it in the fridge or freezer and serve it warm whenever needed. Easy peasy!
Servings: 9 moulds
Prep Time: 30 mins
Cook Time: 40 mins
Ingredients:
Topping
Others
Steps:
First prepare the ingredients listed above to be ready before you start to cook.
Mix 200 ml milk with flour and cornstarch. Set aside.
In a pot in medium fire ,heat up 300 ml milk with sugar. Stir well until the sugar dissolves.
Add vanilla (scrap the vanilla out and discard the stalk).
Add salt. Keep stirring with a whisk.
Slowly pour mixture (milk/flour/constarch) into the pot. Keep stirring in one direction. At this point the mixture will thicken. When you start to see air bubble popping, turn off the heat and remove the pot from the fire.
Fold in butter in one direction into the mixture.

Whisk the egg yolk with a fork and fold it into the mixture.

Pre heat oven 180 degrees celsius.
Lightly grease the aluminium cups or ramekins or baking tray with butter.
Sprinkle the top of the mixture with almond slices.
When the oven is ready, bake the tart between 35-40 mins. (depending on your oven). The tart should be golden brown.

Serve warm or at room temperature with vanilla ice-cream and pomegranate seeds.
Recipe Notes:
If you cannot get them fresh in your country, young coconut and lychees in syrup photos:
For storing in the fridge, the tart should be at room temperature, cover with a cling plastic film and also aluminium foil on top of the cling plastic film. Can be refrigerated for a few days.
You can also store them in the freezer. When the tart is at room temperature, cover with a cling plastic film and also aluminium foil on top of the cling plastic film. Then freeze them.
Defrost the tart in the microwave and heat it up before serving. Heating it up can be done in the microwave or oven. Oven should be at low temperature.
Photo of tart in a baking tray.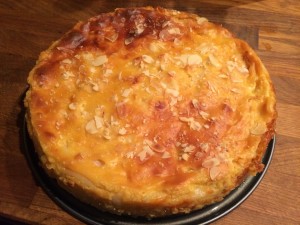 Rosie Gohres