The original Indonesian klappertaart or we call it kelapa tart, kueh kelapa, coconut cake originates from Manado Indonesia. It has the influence of Indonesian and Dutch style of dessert. Imagine a combination of coconut meat, cinnamon, a pudding/custard like structure of "vla" , dutch pudding. However in this version that I am making, I am not a fan of using too much strong cinnamon powder and a runny pudding type. So I am using less cinnamon, medium pudding structure and I will be baking the klappertaart instead of steaming it or putting it in the refrigerator. I also use cacao powder for dusting and pair it with vanilla ice-cream and fruit berries.
Servings: 9 moulds
Prep Time: 40 mins
Cook Time: 55 mins
Ingredients:
Toppings
Steps:
Mix 200 ml milk with flour, cinnamon powder and cornstarch.
In a pot in medium fire ,heat up 300 ml milk with sugar. Stir well until the sugar dissolves.
Add vanilla (scrap the vanilla out and discard the stalk).
Add salt. Keep stirring with a whisk.
Slowly pour mixture (number 1) into the pot. Keep stirring in one direction. At this point the mixture will thicken. When you start to see air bubble popping, turn off the heat and remove the pot from the fire.

Fold in butter in one direction into the mixture.

Whisk the egg yolk with a fork and fold it into the mixture.
Add coconut meat and fold in.

Pre heat oven 160 degrees celsius.
Lightly grease the aluminium cups or ramekins or baking tray cans with butter.
Pour the mixture 3/4 (three quarter) into the cups.
Sprinkle the top of the mixture with almond slices.
When the oven is ready, bake the klappertaart between 45-55 mins. (depending on your oven). The klappertaart should be golden brown.

Serve warm or at room temperature, dusting with cacao powder (or cinnamon pwder if you like) with vanilla ice-cream and fruit berries (or berries jam/compote or chocolate syrup).
Recipe Notes
Coconut meat in packets. (see photo)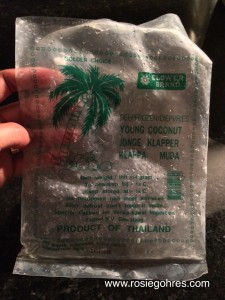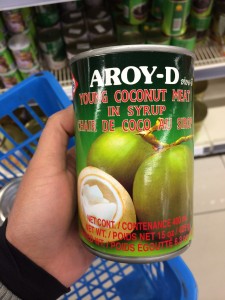 Or coconut meat in cans