One of my favourite oven dish is the roasted chicken with harissa recipe that is very versatile.  Harissa spice is of North African (Tunisian) and Middle Eastern condiment. Whenever I make this recipe, I use the roasted chicken either in salads shred into pieces , pair it with cucumber yogurt mint sauce, shred it and fry it with fried rice or shred it and stuff it in pita bread. The possibility is endless.
Servings: 4 people
Prep Time: 10 mins
Cook Time: 60 mins (Passive)
Ingredients
•1 wholefresh chicken
•3-4 tbsphoney more if needed
•3 tbspharissa spice powder
•3-4 tbspcooking oil not olive oil
•1 tbspchilli powder optional
•1 tbsp water
•sea salt to rub the chicken
Steps:
1.Clean the chicken thoroughly and leave it to drain on a colander.
2.After the excessive water drains out, pat the chicken dry with kitchen paper or kitchen towel.
3.Place the chicken in a roasting pan.
4.Rub the chicken with sea salt.
5.In a bowl, add harissa powder,honey, water and cooking oil. Stir until you get a smooth fluid paste that is not too thick and not runny. If you feel that the paste is too thick, add cooking oil.
6.Rub the chicken with the paste. You can also rest the chicken with the marinade for 30 mins before putting it in the oven.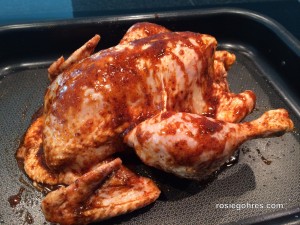 7.Set the oven temperature to 200 degrees celsius. When the oven beeps, place the chicken (in the roasting pan) in the middle of the oven.
8.First cook for 30 mins on one side of the chicken.
9.When the oven beeps, turn the chicken over and cook for another 30 mins. For large chicken which is about 1 kg , it takes about one hour to cook in total. Always check the chicken with thermometer or cut through to see if it is cooked.
Recipe Notes
If you like it more spicy , add chilli powder in the marinade. Harissa spice powder can be found in the Turkish shop. The honey will turn the outer skin of the chicken dark.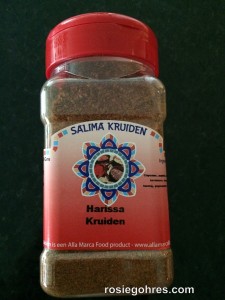 Rosie Gohres | www.flavoursofsingapore.nl | www.rosiegohres.com