From Amsterdam to Bacolod , Negros Island , The Philippines. Dutch Chef Guido opens up Negros Museum Cafe. Located in The Negros Museum, they serve natural food make from scratch such as ham, artisanal breads, smoked bacon, serving fresh juices etc . It's classic international kitchen with a touch of Philippines twist. All organic. Let's hear what Chef Guido & Gemma Nijssen has to say…
Q: Tell us more about yourself as a Chef and Proprietor of a restaurant ?
Have been Chef and Proprietor from 1984 to 1992, from a Hotel-Restaurant in Zuid-Limburg. I went back in history by running a restaurant again. See it as a hobby. Here Gemma is the Proprietor, I'm the Chef who whispers the Filipino hands how to do it. I bike up and down the markets to 'hunt' Natural Food ingredients and concoct the dishes.
Q: What type of cuisine do you specialize in?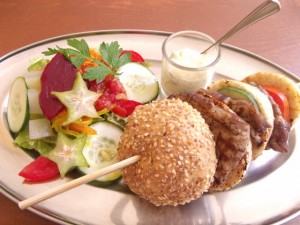 'Regional Kitchen' as much as possible Natural/Organic products of Negros Island; considered 'The Organic Island of the Philippines'. It's still the early stage of 'Organic', but growing fast. Our Cuisine is based on the Classic-French kitchen, International with a Filipino twist. We like to show what more is possible with the beautiful local products; let's say "The New Negros Cuisine"
Q: When did you leave The Netherlands to work abroad? And how long have you been abroad?
In 2005 I came for the first time on a PUM mission (Project Sending Managers, developing program) to the Philippines. In 2008 I moved completely from Amsterdam to Negros Occidental and live here around 7 years now.
Q: Do you miss your country The Netherlands ?
NO, only the 'raw/pickled' Herring.
Q. What are your achievements in your career as a Chef?
To become Culinary Journalist in the '90 for 6 Newspapers and in 2001 Head Editor/Editor in Chief for 'Lekker' (Delicious) the number 1 Restaurant Guide of The Netherlands.
Museum Cafe:
1) GMA News TV Ang Pinaka, Number One restaurant in the Top-10 of Bacolod City
2) 'ClickTheCity' Filipins Number 1 Lifestyle website: Museum Cafe Best Restaurant Bacolod City
3) Tripadvisor: Best Restaurant Bacolod City
4) Tripadvisor: Best Restaurant Negros Island
Q. What is your memorable experience as a Chef? (name ONE memorable experience)
In the '80 I served Tournedos (beef tenderloin) classic tied up with bacon and a string around. One lady complained "it was very nice but there was one very strong tendon in the meat…" She ate the cotton string…
Q: You are currently in Philippines as a Chef and Proprietor of Negros Museum Cafe, what type of food are you serving in the restaurant cafe?
Fresh Natural food. We get 2 times per week certified organic lettuce, herbs and seasonal vegetables delivered. We make daily fresh Artisan bread, our own cheese from local milk, different 'cold cuts' as: roast beef, ham, mahogany smoked bacon, 'rollade'/rolled up pork belly, Pata Negros/Dried ham, Kasseler/smoked pork sirloin, smoked chicken, etc. We have a small standard Menu because the market has no continuous supply. On the specialty 'blackboard' in the Café dishes come and go, the items we promote in Face Book.
Q: What do the locals think about Dutch food?
Bitterballs (vegetarian oyster mushroom or beef) are a hit. I transformed for example our Dutch Bitterkoekje to the Negros variant: pilinut-muscovado-visayan egg. Dutch Hutspot is also popular… and the Erwtensoep/Snert/Green pea soup is doing very well.
Q: Do you explore Philippines food and where do you get your inspiration from ?
I tasted many Filipino dishes, and there are very good ones like Kinilaw/raw fish salad, Kaldereta/goat, vegetable stew and a nice Adobo. Special are the local fish soups/Sinigang made with fresh Batuan… I love that beautiful sour!
My inspiration comes from experiencing the foods, traveling around the world, and the so important basic classic-kitchen, the fundaments of cooking, what is 'pounded in my head'.
Q: Do you test all your recipes on your friends and your wife Gemma?
We never make a recipe out of a book; it's all 'tailor made'. We always taste with the cooks/staff and balance the taste with them.
Q: Is it true Chefs don't cook at home? (That's what people like to think?) 🙂
No, like to cook at home too.
Q: What is your favourite meal/dish ?
I'm not an eater, I'm a taster. Don't like big pieces of meat, small bites of good quality of any food: Less is More!
Q: Do you have a favourite ingredient?
Fresh Coriander
Q: What will you be cooking for Christmas Day?
Every day is Christmas for us… we love to prepare a nice big Alimusan (catfish from the Sulu Sea)
Q: Anything else to add?
Guido & Gemma Nijssen: "Sea Salt is the Push-up-Bra for Taste" -))
https://www.facebook.com/pages/Negros-Museum-Cafe/296627380426096