I had the honour of interviewing one on one with some of the TV chefs from 24Kitchen during the weekend of 24Kitchen & Cottages in April. The lovely Roberta Pagnier is one of them. She is so bubbly and warm in personality.
Roberta Pagnier is a television chef from 24Kitchen. Born in 1979 with a mix parentage from a Dutch father and Italian mother Roberta grew up in Amsterdam. You can tell her Italian roots (not just from her looks) but also from her passion with Italian food and cooking. After her European studies in the University of Amsterdam, she continues to work in the "horeca" hospitality industry such as Italian restaurants and she stayed on in the culinary world. As we say, the rest is history….
Q. Tell us more about yourself?
My name is Roberta Pagnier. My surname is French. My father is Dutch and he has French ancestors and the Italian part was my mother. Unfortunately my mother passed away. My mother was from Milan. My grandfather was from Puglia and that is why I look so dark and so round 🙂 and I gained weight very easily (Roberta laughing). I live in Amsterdam. I grew up in The Netherlands. My family is a typical Italian family and my mother didn't speak any Dutch so we would always speak in Italian. I feel at home here in The Netherlands and also in Italy.
Q. Who inspires you?
It is difficult to say and it is many things but if we go to the bottom it is my Mother. It is not only the food that she prepared but also the love for Italy. Unfortunately she passed away. So in a way Roberta Pagnier. So the main inspiration for my work and my food is my mother.
Q. What is your favourite dish?
It comes in phases but in general it is Risotto and cook in lots of different ways.
Q. A lot of people say Chefs don't cook at home? Is this true for you?
Well the thing is I have a daughter she is 5 years old and she needs to eat. (Roberta laughing). So it is true when I have been working a lot and I have a catering company and working 15 hours a day in a row I see myself eating a bite out of the cucumber instead of preparing for a meal but when at home with my daughter I want her to learn about food, different taste, different kitchen so I cook.
Q. Any favourite restaurants which you visit often or that you like and say this is the best Italian food?
One of the best for me in Amsterdam is still Toscanini and I really like Pianeta Terra which is a restaurant where I used to work myself. An organic slow food. Another very good one a modern Italian cuisine Bussia also in Amsterdam. I think those 3 are my favourite Italian restaurants. But I don't only eat Italian (Roberta laughing)… I like also Vietnamese and Thai and I am a big fan of chocolate and I am not a big fan of the Dutch cuisine.
Q. Do you have any advice for people wanting to learn Italian food?
Use very good products. When I was small, we did not have basil in The Netherlands. So my mother when we would go to Italy by car she would bring back fresh basil and the whole car would smell of basil. For me it is a very good memory and for nicotine back then people used to smoke in the car. Then in The Netherlands she would make her own fresh pesto, fresh sauces with basil. So good products is very important. It is easy to find everything in the supermarket but do your best to find good olive oil, good cheese, good rice for the risotto. Italian cuisine is perfect for that and you only need a few ingredients and you can make a good dish. The better your products are the better your food gets.
Q. Last question, what is your ambition?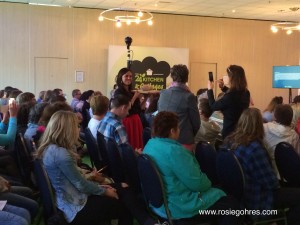 Work wise, I want to show The Netherlands there is more than just traditional Italian food. I want to modernize the Italian cuisine a little bit. I am not a Michelin star chef and I am not going to aim at a very high level but what I want to do for example the pasta carbonara is a very simple traditional dish and you can take the components of the pasta and build up the dish in a new way. That's modern Italian.
Follow Roberta on Twitter : https://twitter.com/robertapagnier